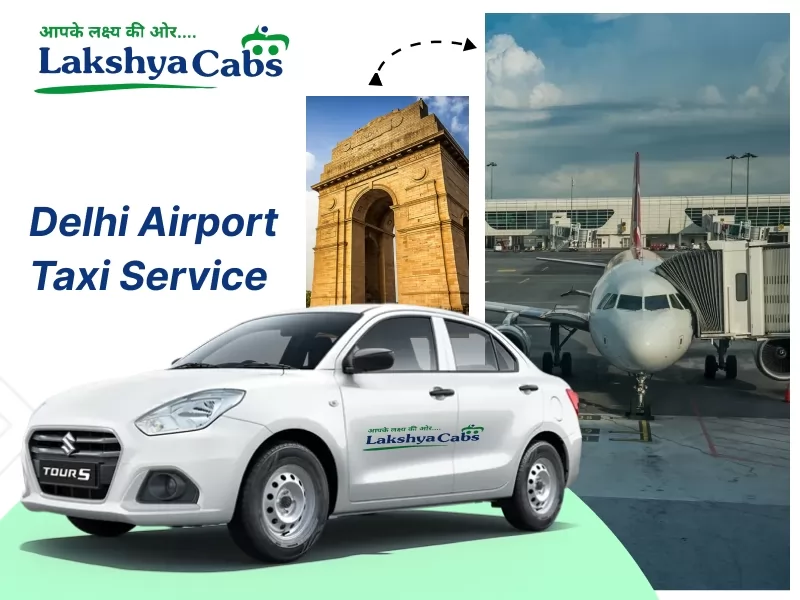 Delhi Airport Taxi Service - Lakshya Cabs
Are you currently in Delhi and in need of a dependable transportation service to or from the airport? Look no further! Lakshya Cabs offers an exceptional Delhi Airport Taxi Service that combines convenience, luxury, and affordability. When it comes to your journey to or from Indira Gandhi International Airport in New Delhi, transportation is undeniably a critical factor. Arriving at your destination in comfort and ease can significantly enhance your overall travel experience. This is precisely where airport taxis step in, providing a seamless and trustworthy solution for all your transportation requirements.
Introduction to Lakshya Cabs
Lakshya Cabs is a renowned name in the transportation industry, specializing in airport taxi services in Delhi. With a fleet of well-maintained vehicles and a commitment to punctuality and customer satisfaction, Lakshya Cabs has earned the trust of travelers in and around Delhi.
Delhi Airport Taxi Booking Online
In this digital age, convenience is key. Lakshya Cabs offers a user-friendly online booking platform. Whether you're planning your trip in advance or needing a taxi on short notice, our online booking system ensures a hassle-free experience. Simply visit our website, enter your details, and book your taxi within minutes.
Taxi Options at Indira Gandhi International Airport
Let's delve into the various taxi options available at the airport, along with their capacities and prices:
| | | | |
| --- | --- | --- | --- |
| Vehicle Type | Models | Taxi Rate (per km)* | Vehicle Type |
| Economy | Wagonr or similar | Rs. 11/km | Hatchback |
| Sedan | Swift Dzire, Toyota Etios, Honda Amaze, Zest | Rs. 13/km | Sedan |
| SUV | Ertiga, Innova, Innova Crysta | Rs. 17/km | SUV |
Note: Above mentioned prices are not fixed, please confirm before booking a taxi in Ahmedabad with TrueValueRide.
Now, let's explore each of these options in more detail:
Swift Dzire, Etios, Honda Amaze, Zest - AC Sedan
is a comfortable and spacious sedan with a capacity of up to four passengers. Whether you're traveling solo or with a small group, these cars provide a smooth and enjoyable ride. At just ?13/km with GST included, it's a budget-friendly choice for airport transportation.
Wagon R - AC Economy
Wagon R, an AC Economy car, is another excellent option for up to four passengers. It offers affordability without compromising on comfort. At ?11/km with GST, it's a cost-effective choice for those looking for economical airport transportation.
Innova, Ertiga, Innova Crysta - SUV
If you're traveling with a larger group, the Innova, Ertiga, Innova Crysta AC Minivan is the ideal choice. With a capacity of 6+1 passengers, it offers ample space for both passengers and luggage. While the price isn't mentioned, you can inquire at the airport for the current rates.
Local Delhi Airport Prepaid Taxi vs. Lakshya Cabs
Airport transportation presents various choices, and one of them is often discussed is the concept of prepaid taxis. However, for those seeking a superior and more individualized travel experience, Lakshya Cabs emerges as a compelling alternative. Opting for Lakshya Cabs allows you to sidestep the inconvenience of enduring lengthy queues and relish a stress-free journey to your chosen destination.
Why Choose Lakshya Cabs at Indira Gandhi International Airport?
Traveling can be stressful, especially in a bustling city like Delhi. Here are some compelling reasons why you should consider opting for airport cabs:
Convenience: Airport cabs are readily available at the airport terminals, ensuring that you don't have to wait or struggle with your luggage to find transportation.

Variety of Options: At Indira Gandhi International Airport, you have the luxury of choosing from a wide range of taxi types to suit your needs, including Hatchbacks, Sedans, Innovas, and even tempo Travelers.

Quality and Expertise: Our airport taxis are equipped with experienced chauffeurs who are well-versed with the city's routes, ensuring a smooth and comfortable journey.

Affordability: Despite the quality service, airport cabs are competitively priced, making them a cost-effective option for both solo travelers and groups.
Lakshya Cabs - Your Reliable Airport Taxi in Delhi
Lakshya Cabs operates exclusively in and around Delhi's international airport. Our drivers are well-acquainted with the airport's layout and traffic patterns, ensuring a smooth and efficient journey. Say goodbye to the stress of navigating an unfamiliar airport; Lakshya Cabs has got it covered.
Seamless Airport Transfers with Lakshya Cabs
Whether you're arriving in Delhi or heading to the airport, Lakshya Cabs offers prompt and dependable transfer services. We understand the importance of timeliness when it comes to air travel, and our drivers are committed to getting you to your destination on time.
Booking Your Cab with Lakshya Cabs
Booking your cab with Lakshya Cabs is a breeze. Their user-friendly website and 24/7 customer support make it easy to secure your transportation. Plus, with a variety of vehicle options, you can choose the one that suits your needs and budget.
Privacy and comfort matter, especially after a long flight. Lakshya Cabs provides private taxi services, ensuring that you have the entire vehicle to yourself. Enjoy a peaceful ride to your destination without sharing space with strangers.
Travel plans don't always align with regular business hours. Lakshya Cabs understands this and offers round-the-clock taxi services. Whether it's the crack of dawn or the dead of night, you can count on them to be there for you.
Lakshya Cabs takes pride in their pickup and drop services. We track your flight's status and adjust pickup times accordingly. You won't have to worry about waiting for a taxi; your ride will be ready when you are.
Concerned about pricing? Lakshya Cabs offers competitive rates without hidden charges. We believe in transparency, and our fare structure reflects that. You can check the rates on our website or inquire with our customer service team.
How to Book a Taxi to Delhi Airport
Booking a taxi to Delhi Airport is straightforward with Lakshya Cabs. Visit our website, enter your location, choose your vehicle, and provide your flight details. Your driver will arrive at your doorstep or designated location at the specified time.
In the realm of airport transportation, Lakshya Cabs stands out as a dependable and customer-focused choice. With their online booking system, 24/7 availability, and commitment to transparency, we offer a seamless travel experience for both residents and visitors to Delhi. Whether you're arriving at the airport or need a ride there, Lakshya Cabs has you covered. Say goodbye to travel hassles and hello to a comfortable journey with Lakshya Cabs.
Frequently Asked Questions
Q. Is Lakshya Cabs a reliable taxi service provider?
A: Absolutely! Lakshya Cabs has a stellar reputation for reliability and punctuality.
Q: Are your drivers experienced and knowledgeable about Delhi Airport?
A: Yes, Lakshya Cabs' drivers are well-versed in navigating Delhi Airport, ensuring a smooth ride.
Q: Can I book a taxi with Lakshya Cabs in advance?
A: Certainly! Lakshya Cabs offers both advance and on-demand booking options for your convenience.
Q: Do you offer child seats for families traveling with children?
A: Yes, Lakshya Cabs provides child seats upon request, ensuring the safety of your little ones.
Q: Are there any extra charges for late-night or early-morning bookings?
A: No, Lakshya Cabs maintains consistent pricing, regardless of the time of day or night.
Q: Is it possible to cancel a booking with Lakshya Cabs?
A: Yes, you can cancel your booking with Lakshya Cabs as long as you do so within our cancellation policy guidelines.